5 3/4"
"Mariah" Rocket Headlight
You ask for "Contrast" Cut Headlights we got em. From the best headlight Available!
Great Quality "Billet" Aluminum, Anodized Black and Contrast Cut with the "Revolver" Style Grooves.
Don't forget you'll need a Bulb for this one!
Just Click the Back-button to Select the 5 3/4" Bulb
FEATURES:

• Diameter: 4-5/8"

• Length: 6-5/8"

• Screw-in bezel with locking feature

• Spun billet aluminum housing

• Polished Revolver grooves are milled into the housing creating a stunning contrast

• The black bezel features a contrasting flash of bright metal

• Fully machined with a non-wavy mirrored finish

• Fits on 3/4" block using 3/8" diameter bolts, sold separately

• Fits all SAE lamps, sold separately

• 6" pigtail included

• DOT approved

• Lamps, Mounts, Mounting Bolts & Connector Kit sold separately (see below)

• Made in the USA
"Mariah"
5 3/4" Headlight
1-5911-ZA
$499.99
YOU'LL NEED TO FILL THE SPACE WHEN YOU TAKE OFF YOUR STOCK HEADLIGHT!
This Bracket Goes in the Top Triple Tree
You may also want our "Reduced" Size Back Plate to Hide the Wires Available
in Carbon Fiber that's Cut to Fit!
$40.00
Here's our Headlight Mounts if you want your Headlight
to go up taller we have Posts on the other page.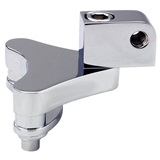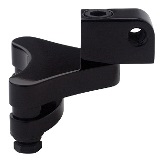 "Polished"
Headlight Mounting Kit
1-0054MAA
$88.99
"Chrome"
Headlight Mounting Kit
1-0054MCA
$98.99
Headlight Mounting Kit
1-0054MZA

We also offer a "PLUG & PLAY" Wiring Kit where WE install he plug so you can just Un-Plug your Headlight and Plug your Wave Headlight back in!
Includes the "Clip, Pins from HD and Heat Shrink Tubing to the wires for a "Seamless" Install!
1. TO BE CLEAR YOU WILL CHOOSE THE HEADLIGHT MOUNTING BRACKET FOR YOUR HEADLIGHT
2. THE TRIPLE TREE BRACKET TO REPLACE THE TOP BRACKET YOUR REMOVING THE HEADLIGHT FROM YOUR TOP TRIPLE TREE
3. THEN THE "OPTIONAL" CARBON FIBER BACK PLATE TO HIDE THE WIRES
4. A BULB BELOW UNLESS YOU HAVE A 5 3/4" ONE IT WILL FIT THIS HOUSING.
Remember you NEED a BULB for this Headlight Bucket! Shown here with one but DOESN'T Come with One!
BLACK FACE OR CHROME FACE LED BULB OR OUR CLASSIC STYLE!
same as the HD "Daymaker" only Half as much $$$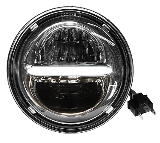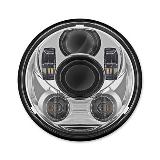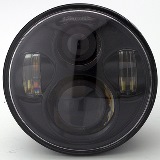 Classic Led Lamp
Chrome Face Led Lamp
Black Face Led Lamp
$199.00
$199.00 $199.00
ON SALE FOR $159.00
US Shipping
$48.00
International Shipping is around $58.00
We Refund Shipping Overcharges back to your card when we ship!