5 3/4" "Aurora" Headlight

One of our Favorites!

This is probably the most Popular headlight we sell!
This billet aluminum headlight comes in Powder Coated "Denim" Black, "Gloss Black" or show quality "Chrome" .
Stylish and affordable we've found this Headlight to be a popular Replacement for the V-Rod Headlight.
Priced Right and looks good!
Doesn't come with a MOUNT nor does it come with a BULB....
Fits HD "Daymaker" Bulbs as well.
"Aurora"
Gloss Black Headlight
HW 1-5900UZA
$199.95
"Aurora"
Chrome Headlight
HW 1-5900UCA
$199.95
HW 1-5900UAA
$175.95
Here's the 4 pc Mounts that will work with your 2002-2011 V-Rod!
Polished Gloss Black
Polished
Mounting Base
1-0054AA
$136.95
Chrome
Mounting Base
1-0054CA
$145.95

Gloss Black

Mounting Base

1-0054ZA

$154.95
How about a Back Plate to Hide the Wires?
Available in Black Fiberglass
or Carbon FIber Gloss or Matte Finish
$89.00
Remember you NEED a BULB for this Headlight Bucket! Shown here with one but DOESN'T Come with One!
BLACK FACE OR CHROME FACE LED BULB OR OUR CLASSIC STYLE!
same as the HD "Daymaker" only Half as much $$$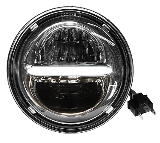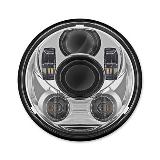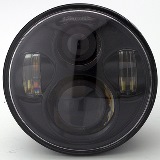 Classic Led Lamp
Chrome Face Led Lamp
Black Face Led Lamp
US Shipping
$48.00
International Shipping is around $68.00
We Refund the Shipping Overcharges back to your Card After we ship!