5 3/4" "Viper" Headlight
The Rocket headlight is Made In America out of CNC Billet Aluminum.
Its Simple design sets the Standard in the Industry!
Stylish and affordable we've found this Headlight to be a popular Replacement for the V-Rod Headlight.
Doesn't come with a MOUNT nor does it come with a BULB....
You'll need a Mounting Kit to attach it to your V-Rod Located on the previous page.
Remember you NEED a BULB for this Headlight Bucket! Shown here with one but DOESN'T Come with One!
If your putting this on your V-Rod you will need our Headlight Mounting Kit found on the Back Page
Details
• 3/4" mounting block with 3/8" bolt, nut, 1 lock & 2 flat washers included
• Fits all 5-3/4" SAE lamps
(not included see below)
• Spun billet aluminum headlight housing
• Housing is threaded, has a screw-in bezel & lamp retaining ring
"Viper"

Chrome
1-5800 UCA
$185.99
"Viper"
Polished
1-5800 UAA
$159.99

"Viper"
Satin Black
1-5800 UTA
$174.99

"Viper"
Gloss Black
1-5800 UZA
$174.95
Here's the 4 pc Mounts that will work with your 2002-2011 V-Rod!
Gloss Black
Mount
1-0054ZA
$154.99
Chrome
Mount
1-0054CA
$145.99
Polished
Mount
1-0054AA
$136.99
BLACK FACE OR CHROME FACE LED BULB OR OUR CLASSIC STYLE!
same as the HD "Daymaker" only Half as much $$$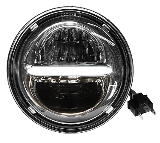 Black Face Led Lamp
Chrome Face Led Lamp Classic Led Lamp
$199.00
$199.00 $199.00
US Shipping
$48.00
International shipping is around $58.00
We Refund Shipping Overcharges once we ship!