5 3/4" LED CHROME HEADLIGHT BULB
DOES NOT FIT: STOCK VRSCAW OR NIGHTRODS 2012 & UP! NO MUSCLES,
ONLY OUR 5 3/4" AFTER MARKET HEADLIGHT BUCKETS OR 2007 - 2011 NIGHTROD SPECIALS
You will need to Replace your bike with a New Bucket and a Mount to use this Bulb!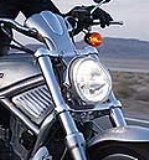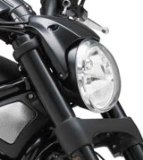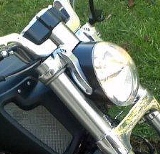 VRSCAW 2012 & UP V-Rods Muscle
With HD's New Led Headlights fitting only the 4" and 7" Headlight bulbs we have the 5 3/4" Led Headlight Bulbs with BLACK Face!
Not only are these LED Headlights Bright, they are Long Lasting!
You'll never have to Replace Another Bulb Again!
And the Black Face will look Awesome on ANY of the "Bullet Style" Headlights we sell. (see below)
OPERATING VOLTAGE: 10-100V DC
DIE-CAST ALUMINUM HEAT SINK DESIGN
*Some wiring crimping may be required on 2005 or older models.
Warranty: 1 Year (Direct replacement.)
Low Beam Input Voltage: 12V DC
Input Current: 1.0A @ 12V DC
High Beam Input Voltage: 12V DC
Input Current: 1.7A @ 12V DC
Power Consumption: 18W (Typical)
Fits Stock 5 3/4" Headlights like these!
Chrome Face
5 3/4 LED Headlamp
$159.99
US Shipping
$36.00
International shipping is Around $48.00 for most countries,
and we Refund the Shipping Overcharges after we ship and know what it is!