CHUBBY® "BOBBER" BARS

THESE CHUBBY "BOBBER BARS" ARE FOR THOSE WHO LIKE TO HAVE A SIMPLE LOOK AND STYLE!

AWESOME 1-¼" THICK AND TAPERED AT THE ENDS FOR YOUR GRIPS. PRE-DRILLED FOR INTERNAL WIRING, POLISHED WELDS, & DIAMOND KNURLED.
FOR THOSE THAT MOVE YOUR SPEEDO INTO YOUR "CUSTOM" AIRBOX COVER

7" rise, 28" wide, 3.5" center, 4" pullback, 10° wrist angle
We supply you with the larger bolts as these fit all HD bikes but the V-Rod.
V-Rods have Metric bolts so you will have to drill out your Top Triple Tree Clamp just one size up for the US bolts (1/2 - 13 x 2 1/2") to fit.
NOTE: WILL NOT WORK ON MUSCLES SPEEDO'S EITHER UNLESS YOU GO WITH AN AIRBOX COVER WITH THE GAUGES IN THEM!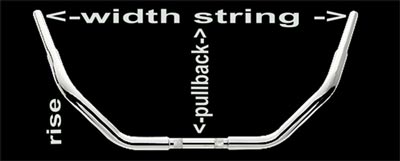 Available in Black or Chrome!
International Shipping is around $68.00
Shipping Overcharges will be Credited back to your card!