"Fatboy
"Bullet Fairing
1990-2017 Fatboy's
& FLS Slim & Slim S
The "Bullet" Fairing is a Dynamic Choice for your "Fatboy'!
The Bold Aerodynamic Shape with a hint of Outlaw Styling Designed to Streamline today's Low-Slung Cruisers.
Extends Back just over the handlebars and measures about 16" front to back, 17½" side to side, and 18" top to bottom.
Provides Full Torso Coverage to Virtually Eliminate Wind Fatigue while Allowing an Unobstructed View of the Countryside; your head is in clean air.
Windshields are Dark Black Translucent Color and Made of Durable Lucite, the Bullet Fairing looks great as is or can easily be painted.
Unique Fairing looks like a "two piece" but is actually a Strong, One-Piece Fairing Constructed out of High-Impact Aircraft Grade Lucite!
Mount your "Bullet Fairing" with the "Trigger-Lock Mounting System" - FOR "On and Off" Without Tools, which allows you to remove the Fairing with a couple of twists to the Lock System.
Fits:

FLSTBS FAT BOY Lo Model

FLSTBS
FAT BOY S
2012-2017 FLS SOFTAIL SLIM
FLSS SOFTAIL SLIM S
Note:
FLSTBS
FAT BOY S Model
has Black Mounts only!
#7121
$169.95
1990-2017
Mounting System to your Forks
"Trigger" Lock
Mounting Kit
Black MEB #1975
w/Silver Clamps
$149.95
"Trigger" Lock
Mounting Kit
Silver MEK #1975
w/Silver Clamps
$149.95
Perfect Fit for your 7" Stock Headlight Housing.
BRIGHTEN UP YOUR HEADLIGHT WITH LEDS!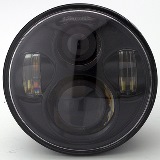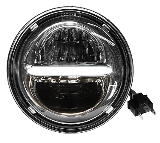 7" Black Face or Chrome Face 7" "Classic" Black or Chrome Face
Led Bulbs $169.99 Led Bulbs $189.99
You can Paint your fairing or leave it natural as the Gloss Black is Painted on the inside of the Fairing
so you can ride for a season or for good without painting it if you wanted.
Fairing Painted:
Solid Denim Black $200.00
Solid Color means Non-Metallic Color $240.00
HD Metallic or Two Toned Colors $280.00
Custom Painting upon request and will be billed separately!


US Shipping
$68.00
International Shipping is around $95.00
Overcharges will be Refunded after Shipping and we know what it is!
YOU SHOULD HAVE THIS INSTALLED BY A PROFESSIONAL MECHANIC.
INSTALLED IMPROPERLY CAN CAUSE DAMAGE AND WE ARE NOT RESPONSIBLE FOR INCORRECT INSTALLATIONS!