CHUBBY® SPRINGER 12" OUTLAWZ APES
Why do we call them "Chubby"?
Because they are 1 1/4" around, giving them a "Chubby" look!
Looks better with the frame too!

These bars work perfectly for your Springer using Risers!

You can use our Riser's we sell click back to the Riser page!

All our Products are Superior Made in the USA, we Demand the Best so Don't settle for Less!

Awesome 1-¼" Thick, Show Chrome Plated, or Black Powder Coated, Pre Drilled for Internal Wiring, Polished Welds & Diamond Knurled!

Works with Stock Controls & Grips!

SUPERIOR CONSTRUCTION, UNEQUALED QUALITY MADE IN THE USA.

ALL CHUBBY® BARS NOW ACCEPT ELECTRONIC THROTTLE BY WIRE.

Don't worry if you don't know what Fly By Wire is, if you don't it won't matter or affect your installation, it's an xtra for those that have it!

Available in Black or Chrome same price!

Measurements:

12" rise, 33-½" wide, 10" outside base width, 8" pullback.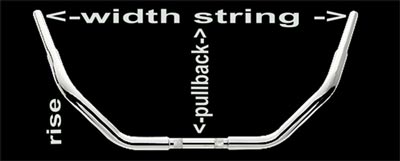 CHROME 12" SPRINGER
OUTLAWZ APES
WO622
$224.95
BLACK 12" SPRINGER
OUTLAWZ APES
WO622B
US Shipping
$68.00
International Shipping
$90.00
Shipping Charges may be More or Less to your area, we will Refund the Shipping Overcharges back to your card after we ship!