Monkey Sport Bar
Monkey "Sport" Bars, Yea, they aren't quite "APES" but they do look rather nice.
Fits 1 1/4" Top Clamp Risers like the Breakout and any Custom Risers we sell with
1 1/4" Clamping area!
They are 33 inches wide, with a 6" rise and over 5" of pull back!
So if it's a low slung profile you crave these are the ones.
Great Styling at a Very Reasonable Price.
Works well with our Selection of Top Clamp Risers!
Your Bike will Stand Out in a Crowd with these!
1 1/4" Monkey "Sport" Bar
Chrome
or Gloss Black
International Priority Shipping is about $68.00
depending on the destination.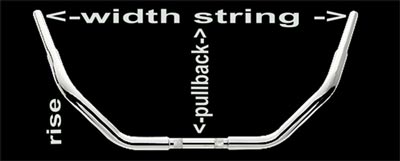 Shipping Overcharges will be Refunded after shipping and we know what it is!