6" RISE PULLBACK "NO GAUGE" BARS
Why do we call them "Chubby"? Because they are 1 1/4" around, giving them a "Chubby" look! Looks better with the frame too!
They are Gaugless Bars, if you want to move your Gauges off your bars, or want to go to our Dakota Digital System then you will want to use these bars!
Or use our Gaugless Airbox Covers Located on the Airbox Cover Page!
All our Bars are Superior Made in the USA, we Demand the Best so Don't settle for Less!

Awesome 1-¼" Thick, Show Chrome Plated, or Black Powder Coated, Pre Drilled for Internal Wiring, Polished Welds & Diamond Knurled!

Works with Stock Controls & Grips!
TAPPERED ENDS SO YOU CAN PUT YOUR HYDRAULIC CLUTCH HOUSING WITHOUT ISSUES!
DOESN'T INTERFER WITH NORMAL CLUTCH HOUSINGS
V-ROD OWNERS ~ THIS IS A "GAUGLESS" HANDLEBAR, AND WILL NOT WORK WITH ANY CLAMSHELL!
YOU WILL ALSO HAVE TO DRILL OUT THE HOLES FOR ON YOUR TRIPLE TREES AS THE BOLTS ARE LARGER AND NORMALLY FIT ALL THE OTHER BIKES!
We will supply the New Bolts (1/2 - 13 x 2 1/2") for the bars.
Comes in Chrome or Black Powder coated with a 6"rise, 30-½" wide, 8-½" center, 10-½" pullback.
Satin Black
WO500B
$285.95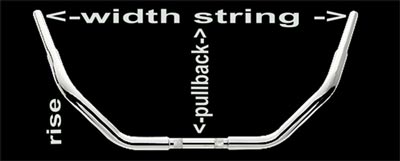 Click Here to Learn How to Measure your Pullback on your Handlebars
US Shipping
$48.00
International Priority Shipping is about $98.00 depending on the destination.